A Guide to Building a Backyard Cottage in Your Alhambra Property: A Perfect Solution to the Real Estate Price Hike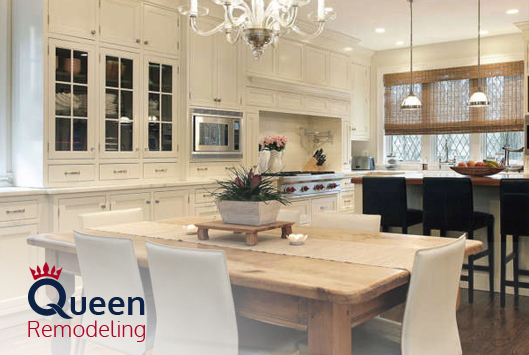 Find the ways to create a backyard ADU that will make your living more comfortable with minimum time and investment
Every day, the average living pattern in Alhambra is changing. With California's real estate market being at an all-time low these days, it's a wonderful thing for the homeowners to build a backyard cottage for those who need additional help and housing that they can afford. For one reason, your backyard might be the ideal location for your loved ones in need of a place to live. When your family requires some additional living space, a backyard cottage may be the ideal option.
Here's why backyard apartments are such a popular choice among California families and how does it work for you before deciding on your project:
What is a Backyard Cottage?
The term "backyard cottage" implies a lot more than it is. It isn't simply a modest living space in your backyard. It isn't always as detached from the main house as the name suggests. A backyard apartment is essentially a completely operational secondary living unit built on the primary residential structure, such as a single-family home or a duplex.
Why Build a Backyard Cottage?
Here are a few explanations for why you should consider purchasing a backyard house:
The Family That Remains United: If you're like many other families in California, you and your family members have been severely impacted by the state's housing problem. According to current estimates, the state will need to build 3.5 million affordable apartments by 2025 only to cope with demand.
Therefore, many families are dispersing across the state altogether in search of less expensive housing options. Backyard cottages bring up an entirely new world of inexpensive accommodation for families, allowing them to spend more time together. You can now see your family more frequently and perhaps assist them in finding housing that they can afford.
Taking Care of Aging Parents: Seniors who have retired or approaching the retirement stage are aware that their incomes are now restricted to a certain point. Backyard houses are an excellent option for several families, regardless of their circumstances. They take an initial commitment, but once you've made that investment, you can give your loved one cheap, accessible care from the comfort of your home without constantly worrying about the commuting distance.
Even if your elderly relatives do not require more care, you can still provide them with an affordable living choice. Rather than struggling to find accommodation that fits their budget, you can provide them with an alternative that is just what they need with reasonable charges.
The Ideal Abode for a Special Need Family Member: Because of the extremely high demand for affordable housing, so many individuals with special needs may be unable to find the accommodation they require. Even if they discover housing that fits their budget, they may find it difficult to adjust due to distance factors and other inconveniences.
Backyard cottages are ideal since you can create just the area where your loved ones with special needs can stay. You can collaborate with them to make sure they have the exact space they require. Additionally, if you have relatives who may need further lodgings in the future, you can develop a place that includes those arrangements.
Children's Nest: Even if they realize it is the best decision, many college students return home with the prospect of going back to their childhood bedroom. They've developed the habit of independence, and in a culture that values individuality, they're hesitant to give it up.
Backyard ADUs are the ideal compromise. Children coming back after a long period from boarding schools aren't relocating to their childhood bedroom; instead, they are shifting to a completely functional independent living area. They will be able to get some freedom and start living on their own without their parents' interference.
Extra Space: Even if you don't have any relatives or children who want a place to stay, a backyard house can help you expand your living area. Perhaps you require your private getaway.
What are the Budget Estimates of a Backyard Cottage?
Unfortunately, it's difficult to give an accurate cost per square foot estimate because it varies on the size of the room, the elements you want to incorporate, and other miscellaneous expenditures. A range of factors can influence your backyard cottage price, which includes the following:
Costs of design
Costs of permits and city fees
Costs of utility connections
Costs of installation
While backyard dwellings are smaller, they compress a lot more valuable square footage (bathroom and kitchen) into a little space. Unlike a typical house, where the increased cost of these rooms is compensated by economies of scale, the average cost per square foot of a backyard house is not reduced. In other words, the cost per square foot isn't a real statistic for estimating the cost of an ADU.
What are the Main Ingredients of Your Planning Process?
You should prepare to account for the following while creating your budget:
Excavation
Foundation
Roof
Frame
Plumbing
Electrical
Gutters and Flashing
Drywall
Insulation
Windows, doors, shades, etc.
Millwork
Paint
Hardware
Tile
Appliances
But don't forget to factor in other building costs like specialized tools, demolition process, debris disposal, site preparation, landscaping, contractor's fees, etc. Work with your contractor if you're unsure. Alhambra contractor Queen Remodeling can assist you in determining the extent of the project and the cost of your proposals. We can also guide you in lowering the sticker price and streamlining the process.
Conclusion
If you think your property's backyard is simply for the kids to have fun, it's an understatement! Your backyard cottage is the ideal space for your distant family members to settle down independently with a reasonable cost of living and comfortable atmosphere. We know how important it is to build a backyard cottage. Therefore, we're here to guide you through every stage of your project in hand.